Adobe's Next Major Creative Cloud Release Won't Support Older OSes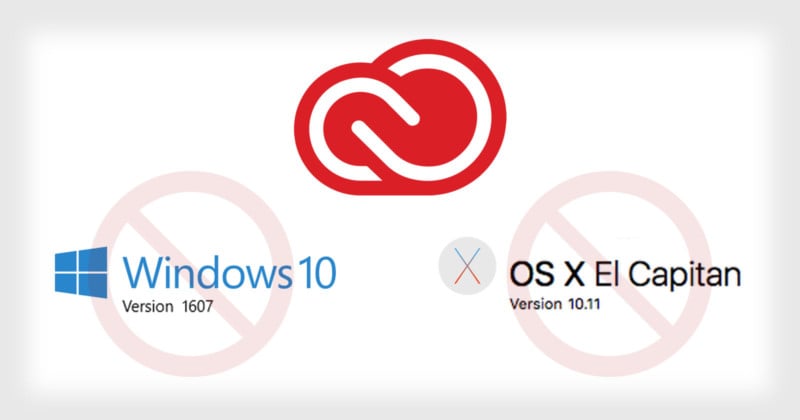 If you're a photographer who uses Adobe Creative Cloud apps but refuses to upgrade from an older operating system version, there's trouble looming on the horizon. Adobe says the next major release of Creative Cloud won't support older versions of Windows and Mac OS.
Your Windows won't be supported if you haven't upgraded beyond the Windows 10 Anniversary Update (v1607) that was released to the public on August 2, 2016. And if you're on a Mac, you won't be supported if you haven't upgraded beyond Mac OS 10.11 (El Capitan), which was released on September 30, 2015.
Adobe says that forcing its users to be on the newest versions of the operating systems will allow apps to "take advantage of the latest operating system features and technologies."
If you're on an older OS version that isn't supported by the next update, you'll still be able to run and install the current and previous versions of Creative Cloud apps that are already released today. But you'll be stuck on these latest versions of Photoshop and Lightroom after the next major Creative Cloud release unless you upgrade your OS as well.
The Creative Cloud Desktop software that manages app installs will continue to work on older OSes (at least Windows 7 and Mac OS X v10.9 Mavericks) even after the next major CC release.
"Focusing our efforts on more modern versions of Windows and Mac operating systems allows us to concentrate on developing the features and functionality most requested by members, while ensuring peak performance that takes advantage of modern hardware," Adobe says.
Photographers have long complained about performance and bug issues in Adobe software, particularly Lightroom. It will be interesting to see whether dropping its support for older OS versions will allow Adobe to give its apps the major performance boost users have been begging for.
(via Adobe via The Digital Picture)

Source: PetaPixel


Adobe's Next Major Creative Cloud Release Won't Support Older OSes