Meyer Optik Gorlitz Admits Nocturnus was a Modified Chinese Lens
After years of launching lenses through much-hyped Kickstarter campaigns, Meyer Optik Gorlitz died in 2018 but was brought back to life after its parent company, net SE, was acquired by the German company OPC Optics. With a new owner, Meyer Optik is now confessing that yes, the Nocturnus was actually a modified Chinese lens.
Back around 2015, photographers began pointing out that the $3,000 Meyer Optik Görlitz Nocturnus 50mm f/0.95 was surprisingly similar to the $849 Mitakon Zhongyi Speedmaster 50mm f/0.95. When asked whether the Nocturnus was based on the Speedmaster, Meyer Optik representatives denied it, but photographer Ori Cohen did some digging and found that the internal optics and specs of the lenses were identical: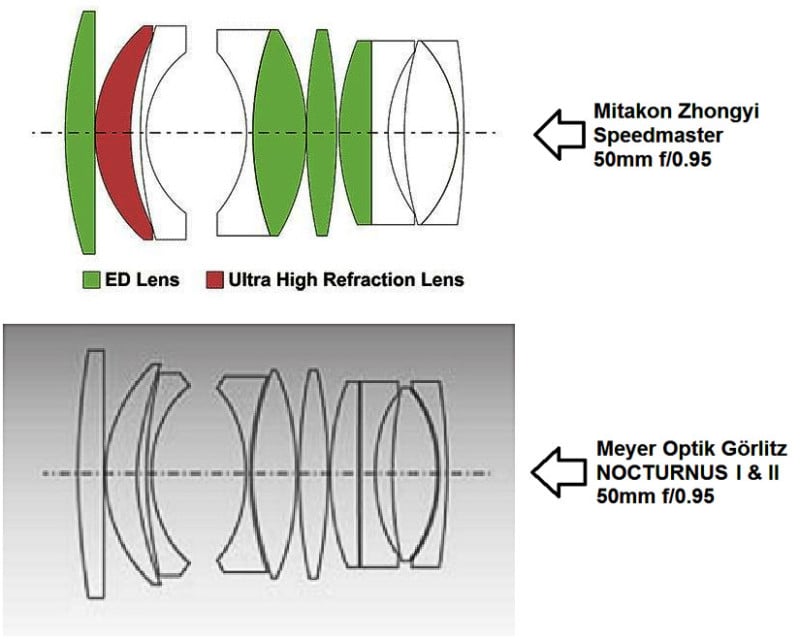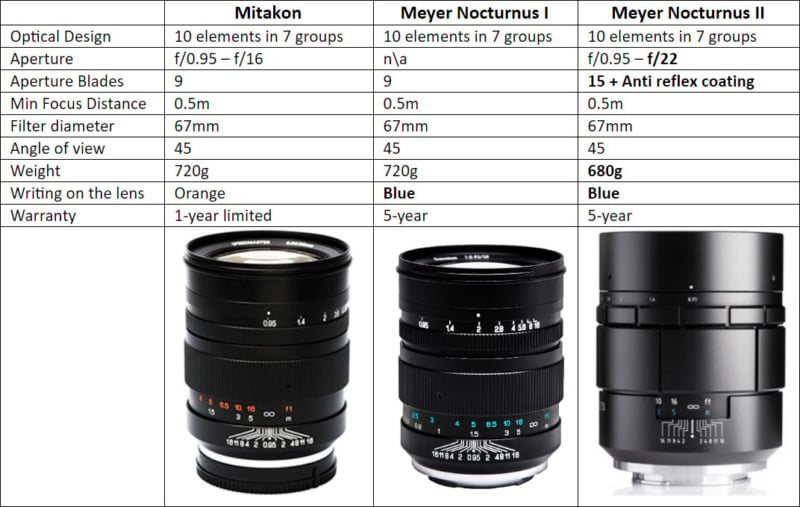 "It seems that it's undeniable that the Nocturnus 50mm f/0.95 I and II were based on the Mitakon 50mm f/0.95, having gone through several redesign stages," Cohen wrote in 2017.
Fast forward a couple more years, and now Meyer Optik is admitting what photographers have suspected — that the "Made in Germany" Nocturnus was actually made in China.
"After analyzing the portfolio of products most recently sold and advertised by the previous supplier, a decision was made to discontinue the Somnium and Nocturnus ranges for the time being," Meyer Optik writes in a press release. "In line with comments in the past on various online platforms, forums etc., the current Meyer Optik staff also soon became aware that internally the Somnium was actually a modified Russian lens and the Nocturnus was a modified Chinese lens."
"That is an absolute no go," says OPC Optics Managing Director Timo Heinze. "As a German manufacturer using the 'Made in Germany' quality seal, this is a shameful indictment. These lenses may be perfectly good in their own right, but their production methods and marketing goes against all our principles.
"With us, nothing of this nature will occur. At the same time, we are not ruling out launching lenses with similar characteristics in the future. But if we did decide to do so, they would, of course, be our own designs and produced by us, in order to genuinely earn the 'Made in Germany' label."
So if you're an owner of the original Meyer Optik Nocturnus 50mm f/0.95, sorry… you would have saved a hefty sum while getting the same image quality by buying the Mitakon Zhongyi Speedmaster 50mm f/0.95.

Source: PetaPixel


Meyer Optik Gorlitz Admits Nocturnus was a Modified Chinese Lens