This Guy Pushed a Piano to the Eiffel Tower for His Wedding Day Photos
How far would you go to set up the scene of your dreams for the perfect wedding day photo shoot? Photographer Priscila Valentina was recently hired by a guy named Samuel whose grand romantic gesture was to spend a morning pushing a piano through the streets of Paris and up to the Eiffel Tower.
Starting at sunrise, Samuel began pushing the antique piano toward the Eiffel Tower. His goal was to surprise his fiancée Maya by singing his vows as part of their wedding day.
"As Sam pushed the piano up to the Eiffel Tower, the Parisians stopped with questionable eyes, but full smiles, something was kindling, a familiar spirit of romance was in pursuit," Valentina says.
"The legality was equivalent to that of a street performer down in Paris," the photographer tells PetaPixel. "We had lots of interaction with the police and they smiled."
"I felt like my heart was going to pound straight through my chest, and when she saw the piano laying in front of the Eiffel Tower she was totally shocked!" Samuel says.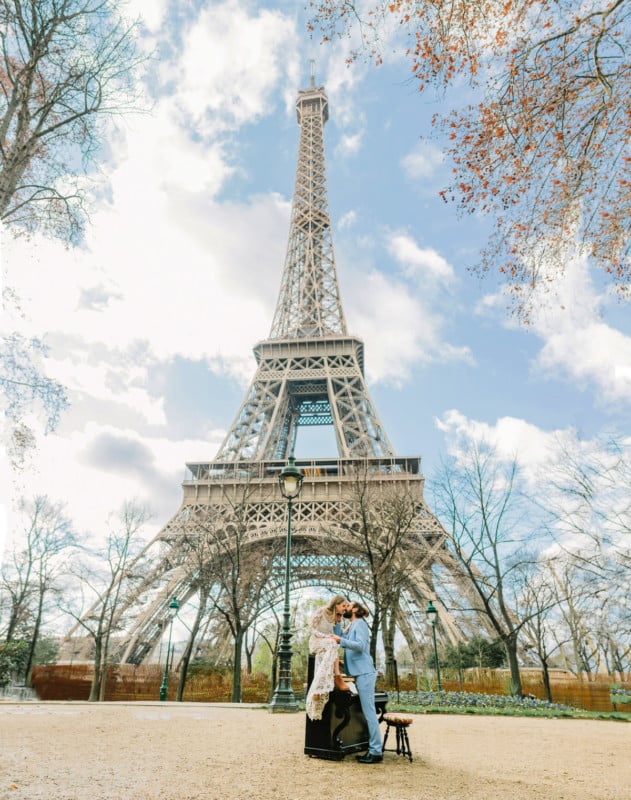 As Valentina was packing up her gear to head to the next location, snow began lightly falling on them. She quickly called for the couple to return and take advantage of the conditions.
"The idea hit me of putting the couple on top of the piano to capture a 'lost in Paris' moment on film," Valentina says. "As the snow fell, I looked up in the sky and knew there was something special happening, it was a supernatural feeling, like as if God opened up the opportunity with perfect timing to remind the world, that we can do better, that love is what this life is all about and I believe that's the message behind the photos."
You can find more of Valentina's work on her website and blog.

Source: PetaPixel


This Guy Pushed a Piano to the Eiffel Tower for His Wedding Day Photos